With a 65 inch 4K screen, I knew going in that the built-in speakers would be lacking. They are in reality not too bad, but still can't touch a dedicated soundbar.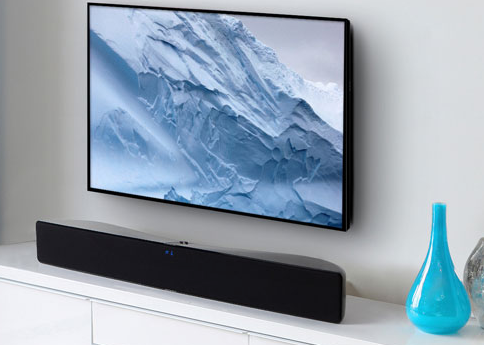 I searched. I tried researching all of my favorite brands as well as some I don't care for, and without fail, the reviews on most of those I looked at pointed to some fundamental flaws that I could not overlook. In a lot of cases, it was the electronics that caused problems, especially if wireless technology was used.
Out of the blue, one of my saved Craigslist searches returned a hit on a Martin Logan Vision soundbar.  It was a three hour drive away, but given the price, there was no way I could turn it down.
As I picked it up, I noticed how long the box was–this is not some tiny soundbar. For now, it fits on my low IKEA TV stand with about 6 inches on either side to spare.  It is also quite heavy.  The contour of the enclosure is curved and sleek. It comes with a wall mounting plate, which I plan to put to use once I hang the LED panel on the wall.
The rear hosts the inputs–two S/PDIF optical inputs, one coaxial, and one analog input.  There is an analog subwoofer output, and the Vision is also capable of wirelessly transmitting to the Dynamo 700W and 1000W subwoofers (which also have wireless capabilities built in).
The drivers include Martin Logan's "folded motion" tweeters, which act more like a folded accordion to push the sound out.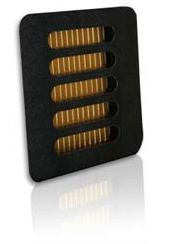 As the TV has a digital optical output, I utilized one input for that on the Vision, and used the second input for the digital output of a Chromecast Audio.  That way, anyone can turn on the soundbar, select the source, and cast to it.
The Vision sounds really good so far–it has a much larger sound than its cabinet would have you believe.  The surround mode is also a nice touch–it can decode Dolby surround and DTS, and also reaches back to Dolby Pro Logic II if needed.  Bass is adjustable, and there is also a compressed Night mode for late night use.
I pressed an old subwoofer into action, but unfortunately the subwoofer output is like others I have used–it is only activated when fed 5.1 surround sound, with bass present on the .1 channel.  And that is sad, since I would love to use this soundbar with the video games, which don't utilize the .1 channel.  I have looked a little for a bass management system that could work inline via the optical connection, but I doubt I will find one easily, if at all. (I just need to route the bass from the main channels over to the .1 output.)
Aside from that, the sound is quite good.  The highs are not piercing or grating at all–the folded motion tweeters are smooth and revealing.  Bass is tubby at the moment, due to having it tucked into the shelf space of the TV stand, but that will change once I can wall mount the soundbar.  The subwoofer output is a nice touch but again, I've rarely heard my subwoofer due to the 5.1 digital surround signal often not having any ".1" content. (I would need some sort of external bass management box that would inject all bass into the .1 channel, one that had both optical S/PDIF inputs and outputs. Nothing exists, that I can find.)  It does a good surround effect with the right input signal, extending the sound far beyond the confines of the soundbar without having any weird phasey effects (as many of these do).
This soundbar is a keeper so far.